Kendall C. Wright
"The Actualizer"
"If you and your colleagues were better leaders, what else would get better?"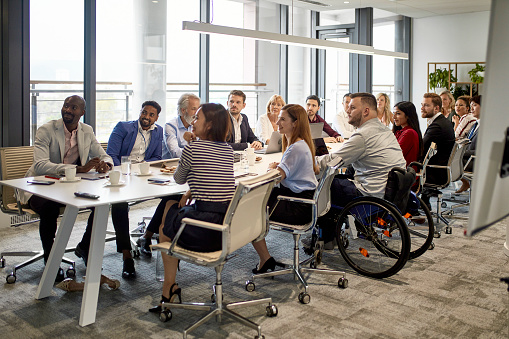 Helping Leaders – At Every Level – Master The Human Dynamics Of Leadership
Book Your Virtual or Live Event Today
Today's workplace is a sometimes volatile mix of elements that, if not managed skillfully, can culminate in a myriad of adverse yet avoidable consequences. How realistic is it to expect things to get better in absence of the proper education, training, and tools? Ultimately, if the behaviors don't change, the culture (micro/macro) will continue to produce suboptimal results while suffocating innovation and development. Remember, "Hope is not a strategy."
Because leaders are the sculptors of their cultures, it is incumbent upon them to enhance their skills - and the leadership skills of their direct reports. Generally speaking, as the leadership skillsets develop, so will the efficiency, effectiveness, and profitability of the enterprise.  
An Invitation to Actualize
Entelechy Training and Development, Inc. is a full-service leadership competence development firm. Our solutions and services address the C.I.A. (Corporate, Interpersonal, and Attitudinal) challenges within your organization.
Our keynotes, seminars, virtual workshops, and coaching resources are customizable and results-focused.
Take action today to be most effective tomorrow!
Contact Us Today To Schedule A Free Consultation
"...Rev. Wright, under the influence and tutelage of the Holy Spirit, and without the doubtful benefit of a doctoral degree, has combined the dynamics of theology, psychology and Christian leadership in a manner beneficial to the professional and laity alike."
"...I have been forever changed by what Kendall taught me in the classes I attended…"
"...Kendall Wright was amazing! He was the highlight of our session and people are still talking about it! He was the "Wright" man at the right time for the right audience."
"...Kendall, thank you for your "spot-on" presentation. As the chair, I have received very positive feedback left and right regarding your workshop and keynote address. There are a lot of supervisors that NEED to hear your message."
"...Words cannot express my appreciation to you for spending time with me each month. It has made a difference in my overall management style and more importantly, how I deal with people."
"...The content of your presentation, the way you connected with our members through the illustrations and your passion toward leadership made our July luncheon a special event for our members. Their gratitude was shown by the standing ovation your received at its conclusion!"
"...Your professional and highly interactive style made the day breeze past and kept the audience in rapt attention. I was especially thrilled with your positive energy that began with your opening comments. Also, the activities you chose to implement strongly cemented key issues in the minds of the 150-plus participants."
"…Thank you so much for your session with the wider leadership team today at Avaya. My email is blowing up, in a good way, about your messages."